Summary
Read about my first year in chess here! I also took a look back at my average centipawn loss over 2021
The biggest event this quarter was playing in my first ever OTB tournament. I did not do so well, but I had a great time and I will be back for more OTB games. I also got an US Chess OTB rating, which was exciting.
After my tournament I went all in on Chessmood. I've been watching their videos as my main source of learning. I am learning about openings, middle game, endgames, tactics, and master games. I find this is a good format for me. For the opening courses I am making files in Chessbase and loading them into Chessable to study. To learn the new 1. e4 opening, I have been really using Chessable a lot: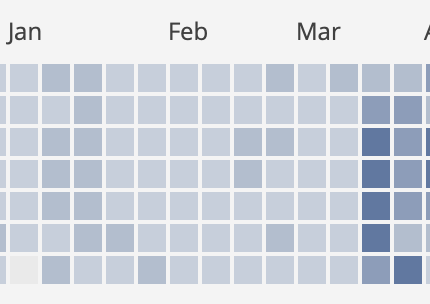 In the last 2 weeks of March I earned more Chessable XP than the first 2 months of the year combined.
Online in March I got over 1300 for the first time. I quickly fell back down, but I know I can get back up there. Part of that was all the games I played. In March I played a ton of 10-minute rapid games as I was learning a new opening. It was a little too much, playing 152 games - or about 5 rapid games per day. It was fun, but not sustainable. I would like to spend a little more time studying, and a little less time playing.
I stopped taking lessons for now. I have so much content to consume that I want to focus on that for a bit before taking more lessons. Everyone says a coach will help, but for now I am using ChessMood as a temporary substitute.
I also have not been doing much with tactics puzzles on Chess.com. I've been mostly focused on tactics using Chessable courses.
On the technology side, I played around with making a cloud chess supercomputer.
Study Plans
By The Numbers
These are the numbers from January 1 to March 31, 2022 (stats from chess.com):
| Site | Category | Result |
| --- | --- | --- |
| USCF | Regular | 887 (P13) - New |
| USCF | Online Regular | 876 (P21) - No Change |
| USCF | Online Quick | 1092 - No Change |
| USCF | Online Blitz | 793 (P16) - No Change |
| USCF | Correspondence Rating | 2037 - No Change |
| Chess.com | Rapid rating | 1201 to 1230 |
| Chess.com | Number of rapid games | 210 |
| Chess.com | Daily rating | 1189 to 1242 |
| Chess.com | Number of daily games | 5 |
| Chess.com | Blitz rating | 559 to 603 |
| Chess.com | Number of blitz games | 50 |
| Chess.com | Puzzle rating | 1850 to 1775 |
| Chess.com | Puzzle rush best score | 27 (Survival) |
Books Studied
Learn Chess the Right Way - Book 1: Must-know Checkmates - Susan Polgar (Chessable)
Learn Chess the Right Way - Book 2: Winning Material - Susan Polgar (Chessable)
Tactics Time 1 - Tim Brennan (Chessable)
The Soviet Chess Primer - Ilya Maizelis (Stopped to study ChessMood)
Chess Queens - Jennifer Shahade (In Progress)