Hello Champions
I recently joined the website/community ChessMood and I wanted to share my experience so far. ChessMood is a website which provides hundreds of hours of videos on many topics related to studying chess. You can check out the website at ChessMood.com. If you want to sign up, you can use my referral code, though don't feel you need to.
You can also listen to the Perpetual Chess Podcast episode with GM Avetik Grigoryan to learn more about it.
There are paid plans, which I signed up for, but they also provide a bunch of content for free. In addition to the videos there is a great blog, an active forum where people can ask questions (pro members can see more posts), and livestreams that cover the same topics as in their videos. It is basically an all-in-one place for chess learning content.
"Hello Champions" is something that GM Avetik says at the start of most of the videos, and I hear his voice in my head saying that sometimes.
Why ChessMood?
At the beginning of March 2022 I was rated 1230 on Chess.com for rapid time control games. I first hit 1200 at the end of June, 2021, and I had not been able to break 1300 in 8-9 months. I tried not to worry much about ratings, but I was a little frustrated just hanging out in the 1200s. Before that I went from 800 to 1200 in 3 or 4 months, so I think I was expecting to keep crossing those (artificial) 100-pt milestones on a regular basis. Having this 1200 plateau was part of the reason I wanted to try ChessMood, and why I was willing to go all in.
At the end of February I played my first ever OTB tournament (find my recap here), and while I loved the experience of the tournament, I hated the positions I was getting. Even before the tournament I knew I was ready for a change with my openings, and ChessMood, which provides very specific openings and plans, seemed like a great fit. I honestly was looking for someone to just tell me exactly what openings to play because what I was doing was not working and I was not enjoying it. It helped that their main opening for white is the Scotch Game, which I had played for a bit about a year ago and liked. But then I stopped using it for some dumb reason, so I was glad to get back to it.
The other thing I found exciting about ChessMood was that all the videos seemed to have the same message. I found when I was looking for other videos online that I was finding all sorts of opinions, rating levels, and conflicting suggestions. As a relative beginner, it is hard to know what works and what doesn't. ChessMood has hundreds of hours of videos, and they all seem to be on the same themes. For example, in the tactics videos it will reference positions you learn about in the opening courses.
Meeting With a GM
As one of the first steps in the process, I met with GM Gabuzyan (form Armenia), one of the GMs from ChessMood. In advance I told him a bit about where I was and how much time I had to study. When we met he recommended a study plan:
Openings (2 hours/week): Start with their Opening Principles course, then WhiteMood Opening, then BlackMood. Once I have all of those, move on to more in-depth opening courses.
Tactics (2 hours/week): Combine the Tactics Ninja course with the Mating Matador course
Master Games (2-3 games per week): 100 Classical Masterpieces
Middle Game (2 hours/week): Do the following courses in order: Happy Pieces, Speedboat Adventures, Bishop Pair, and then Defend With honor
Endgame (2 hours/week): Work on the Pawn Endgames course first, then go to all the other endgame courses. Also do 1-2 games from the 100 Classical Endgame course
It was great to talk to him and he was super nice. That said, he could have just sent me to a webpage with this same information. I felt a little like I was wasting his time. I would have rather spent the 30 minutes chatting about my long-term goals than just have him recite a study plan for me, which is probably the same as most other people at my rating.
Making My Own Study Plan
I told GM Gabuzyan that I had 7-10 hours a week to study. Thinking about it after I met with him, that was an exaggeration. Maybe it was more "I wish I had 10 hours a week." Looking over the plan above, I knew that trying to do all of that in a week would be a bit ambitious for me. I needed to simplify a bit. I decided to pick one course from each category, work on that, and then move on to the next one. For example, for tactics I would only look at the Tactics Ninja course, and then move on to the Mating Matador when I was done. That is a bit different from what was laid out for me. I also broke it down by percentage of time instead of hours.
Before I started this plan I had already gone through the Opening Principles course, so I got to move on to the WhiteMood Opening course.
Here is the basic initial plan I came up with:
Openings (WhiteMood Opening): 30%
Tactics Ninja (Tactics Ninja): 20%
Middle Game (Happy Pieces): 20%
Endgame (Pawn Endgames): 15%
Master Games (100 Classical Masterpieces): 15%
Organizing a Study Plan
Now that I knew in general what I was going to study, I had to figure out how to study it. Each ChessMood course is broken down into sections and each section has many short videos. For example, in the Tactics Ninja course, there are 29 sections like "Skewer" and "Fork." Each section has 10-15 short videos in it for a total of over 380 videos. What I wanted to have was a list of the videos I wanted to study each day or week.
What I ended up doing was downloading the list of videos. I didn't want to download the actual videos, I just wanted a list of titles, urls, and how long they were. Once I had that for each course, I was able to identify which sections of each course I wanted to study that week. I added it all in a crazy spreadsheet so I could organize how long I would spend each day on each topic. I would typically do one or two topics a day and try to cover a whole section. So one day I might look at all the videos in that "Skewer" section and then another day that week I'd move on to the "Fork" section.
In addition to the list, I now had some views of my plan like this: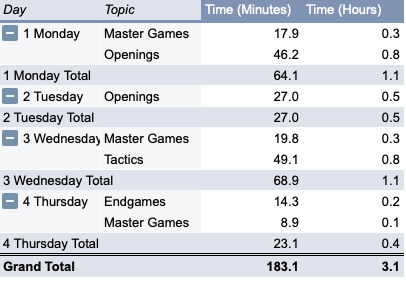 It is a bit of planning and organization each week, but now that I figured it out it goes smoothly.
The easier alternative would be just to keep track of where you left off in each course and pick up there the next time you are ready to study. I wanted a bit more structure to make sure I was balanced in what I was learning. I also found that certain courses are better for certain days for me, depending what else I have going on.
What I've Studied So Far
Week 1
Tactics Ninja: 0.8 hours
WhiteMood Opening: 1.4 hours
100 Classical Masterpieces: 0.7 hours
Total: 2.9 hours
I started in the middle of the week, so I thought I would just checkout a couple of the courses I was most interested in. For the opening course, I just wanted to get the basics of the opening, which is the Scotch Game. I took notes and created a private Chessable study to help me remember the moves.
Week 2
WhiteMood Opening: 1.8 hours
Tactics Ninja: 1.4 hours
100 Classical Masterpieces: 1.0 hour
Happy Pieces (Middlegame): 1.3 hours
Pawn Endgames: 0.8 hours
Total: 6.3 hours
This week was a way too ambitious, I will admit. I got through my plan which included over 6 hours of videos. However, it made my head hurt a bit trying to absorb all the material. For many of the videos I would need to pause and think, which added time. For example, in the opening course, which this week covered responses to the Philidor, Petrov, and Sicilian, I would have to stop and take notes. For the other courses, I would often pause the video and try to figure out the next moves.
My Chessable study was up over 80 variations, which I was trying to get through each day. I earned more Chessable experience points in this one week than I had the previous 4 weeks combined.
I was also excited about my new opening for white, so I was playing a lot of games. I played 40 10-minute games in one week. That's about 10 hours of games, though many of them ended pretty quickly. I would get excited when I played as white, and bummed when I played as black.
Bottom line: It was way too much. It was fun for one week, but totally not sustainable. I did not want to get burned out, so for the next week I wanted to scale back.
Week 3
WhiteMood Opening: 1.1 hours
Tactics Ninja: 1.4 hours
100 Classical Masterpieces: 1.0 hour
Happy Pieces (Middlegame): 0.5 hours
Pawn Endgames: 0.6 hours
Total: 4.6 hours
I planned a bit better this week and was not so overwhelmed. Now that I had a bit better sense of how the courses were set up, I was able to better plan when I was going to study each topic. For example, when I was sitting waiting for one of my kids do a swimming or piano lesson, that was a great time to watch a video on a master game. However, those are not good times to study openings since I need to be taking more detailed notes. Over lunch I can usually squeeze in some of the tactics videos while I eat.
I also allowed myself time to work on the openings in Chessable, which I really enjoyed. After this week I had added some basic responses to the Pirc and Scandinavian after 1. e4. I had over 100 variations in my private Chessable course and I was building up a good set of files in a database in Chessbase.
This week I also was able to attend one of the livestreams, which was a rating speed run using the openings from the videos.
Week 4
WhiteMood Opening: 1.2 hours
Tactics Ninja: 0.8 hours
100 Classical Masterpieces: 0.8 hours
Pawn Endgames: 0.2 hours
Total: 3.1 hours
This was a short week since I had plans over the weekend that did not allow me to play or study chess. I got through the first 9 sections of the WhiteMood Opening course, which is where they said I should get to be able to play against most openings. Looking at my recent games playing 1.e4, most of my opponents responded with 1…e5 (50%), Sicilian (16%), the Caro-Kann (13%), or the French (8%). If I know the responses to those, I should be able to start implementing these new ideas in almost all my games as white.
Playing Games
Knowing that I was going to be learning a new opening repertoire as well as a bunch of new ideas from the other videos, I decided to spend the month playing a lot of 10-minute rapid games. This is faster than I usually play, but still not blitz, which I have been trying to avoid. That said, it is a fine line. Is there much difference from playing a 10-minute rapid game and a 5-minute blitz game?
The other thing I also decided was to not worry too much about my rating. I was still on a "OTB high" after my recent tournament, so I already was devaluing my online rating compared to my OTB rating.
When I got a game as white, I got excited to try out my new opening. As black I was disappointed because I was still doing my same old things and I knew there was something better out there to learn. When I played as white, I found that I was pretty confident in the first few moves, and had some good ideas, but I was not thinking too deeply and ended up blundering a lot of pieces. I think most of my blunders came from trying to be more attacking than I had been in the past, which is the style taught in the videos and I loved. I would see an aggressive plan that I learned about in the videos and not pay close attention to my piece safety. Overall, I was not too mad about that. My goal was to change how I played, and that is what I was doing.
It played about 140 games this month, which is crazy! Surprisingly I won almost exactly half of the games, which I'm pretty happy about. I felt like I got the black pieces way more, but it was only slightly more at 52%. I'm sure that will even out over time, but when I only wanted to play games with my new white opening, it was a little frustrating to play black more often.
Having only one month of data is not much to go on, but I started with a rating around 1230 and ended around 1290. I did get up to 1320 briefly, which was the first time I was over 1300. As I get more comfortable with my new openings I feel pretty confident that my rating will keep going up.
What's Next?
I am really liking ChessMood and I am going to continue working on the courses. As I finish the WhiteMood Opening I'll move on to BlackMood Opening, which is fairly new to ChessMood. But that is only a small part of the courses they offer. I feel like I am getting a more well-rounded taste of videos with middle game ideas, endgame principles, and master games.
I am a little worried that there is so much information coming in that I can't possibly absorb it all. I'm taking notes and using Chessable on the openings, but not taking notes with the other courses. I feel like GM Avetik, who narrates all the videos I am watching really tries to drive home some of the same themes, for example good bishops vs bad bishops, so I like to think that I'm picking up on those.
Would I recommend it?
I think ChessMood came at a good time for me. It fits my study style and my fragmented study time very well. That said, I'm sure it is not for everyone. I spent a year trying to learn on my own with mediocre results. I was at the point where I just wanted to reset and get a good baseline. For that, ChessMood is working great for me and I'm going to keep grinding the videos.
I just jumped right in and bought the monthly membership (before the prices went up), since I knew that if I was paying for it I would be more likely to stick to the plan. However, they have lots of content that you can try out for free, and there is a 7-day free trial. Some of the courses have all the content for free, some have just some of the videos unlocked and you have to be a pro member to see the rest. I'd suggest checking out some videos and seeing what you think. Again, if you want to use my referral code, feel free.