What went well?
My current study plan seems to be going pretty well. I want to keep focusing on this. Having one thing to focus on has really been helping me focus. Before I started these study plans, I would be trying so many things and jumping around from topic to topic. My new approach of doing one thing at a time is working well for me.
I looked back on my Chess.com games from when I started 9 years ago
I feel like I have been winning more games. My stats in January for my Rapid games are below. I played 30 rapid games and won 52%. I'd like to see that even a little higher. I stopped playing blitz on January 17, and since then my win rate has been 57% (14 games). Still too early to say that those things are correlated, but it is looking good.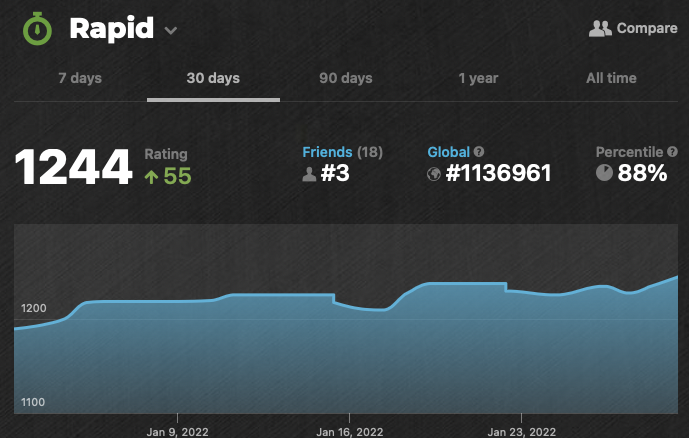 What could have gone better?
Part of my study plan should be to do things that are not chess-related so I get a break. I am worried I will burn out if I keep focusing this much on chess. On the other hand, I feel like I am missing opportunities if I am not playing or studying.
What will I try next?
I posted a Game of the Week last week. I think I will try this each week and see how it goes.
Tweet of the Week
3 kids = 3 days a week at piano lessons = 3 blocks of dedicated #chess study time for me. I may have scheduled different lesson days for this very purpose. pic.twitter.com/fHgIdyxmU6

— MattPlaysChess (@MattPlaysChess) January 24, 2022